Owning a mobile app for business is everyone's dream but our tech-savvy consumer's behavior changes day after day. Compromising diverse ideas and market trends, millions of entrepreneurs started building their own online stores with pickup and home delivery options. As new business ideologies cross the street, business owners think of multiple modes of selling products online. Very well, today in this article, we will learn about the types of grocery business models leading the market and the mobile app development service getting ahead with Go1 Grocery, your all-new grocery delivery app, and website solution provider.
Today we can find, grocery stores and supermarkets in every street and corner, but how many of them take advantage of online platforms, and how many do you think, stays onboard even after facing multiple catastrophes? Maybe 20%...
Well, that's indeed true when it comes to the current pandemic situation, the world is even expecting much worse the 3rd corona waves in the upcoming days, and this will definitely destroy 80% of businesses by shutting them. So, it is better to climb up the mountain before falling down the ladder. You may think, will or can 'I' own an online store or E-commerce platform? The answer is 'Yes'.
Do you know, there grow multiple business nerves that earn money online in different ways and for each business model, Go1 Grocery aims to fulfill with a better online solution. May it be a website or mobile application.
TYPES OF GROCERY BUSINESS MODEL
Aggregators -
This online business model is one of the succeeding ones in the industry where the owner of the online store partners with a single offline traditional merchant, supermarket, small shop, etc to promote and sell products online. This business strategy reduces the cost of warehousing, inventory managing.
When customers place an order online, the delivery person goes to that particular location-based shop, picks the order, and delivers it promptly. Aggregator business is also known as the hybrid model.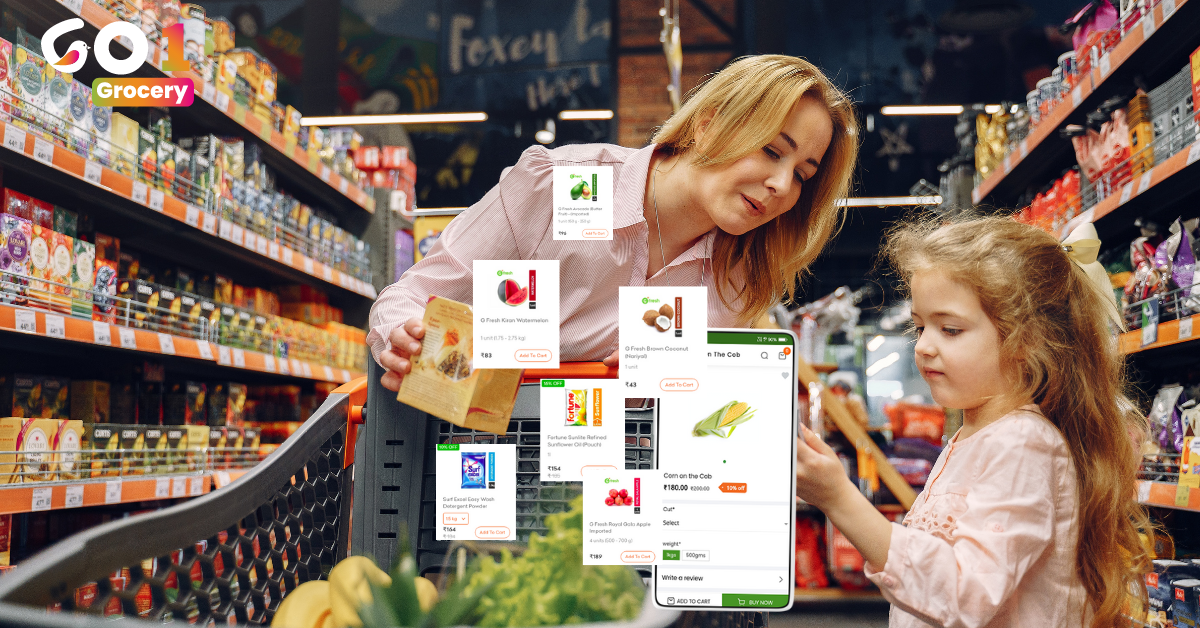 Marketplace or Multi-vendor E-commerce -
This is a place where more than two sellers connect in a single network and sell their groceries or products online. You can imagine this online business strategy as Amazon, Flipkart, BigBasket, Meesho, Instamart, etc.
This is a commission-based business where the seller or merchant needs to give % commission on each order sold and business priority. The grocery seller can promote their products anytime under the approval of super admin.
Individual business owner is provided with a unique admin dashboard where he/she can manage products, orders, inventory, promotions, analytics, etc.
Multi-Chain or multi-branch E-commerce -
A more profitable and intellectual method of online store choice is a multi-chain or branch platform. When a business owner posses stores in multiple states, cities, localities; with a single website or advanced mobile ordering app, an individual can maintain every shop on a single finger with our Go1 Grocery's all-in-one featured solution. More advanced and more effective. One admin to manage the entire business workflow. Admin can even allocate user access to co-workers with certain restrictions.
Entire operational features come in handy such as product management, order management, inventory or stock management, social media management, advertising or promotions and campaign management, report management, loyalty or reward program management, tax management, payment gateway integration, etc.
There are even premium features like finance or GST billing software integration, SMS integration, delivery partner integration, employee management, project management, warehousing, delivery slot management, ERP solution, and more.
Single-vendor Ecommerce or Grocery Website -
Single-vendor Ecommerce is nothing but you being the boss of your online store. No need for partnership or commission-based selling. You own your grocery stage and market your goods and make profit revenue for yourself. Smart and great isn't it?
With the Go1 Grocery solution, you own a customer ordering and delivery mobile app, delivery partner app, admin dashboard (web panel and app) with all features as suiting your brand.
It's time to grow your brand and business online simultaneously. Call Go1 Grocery today and book your online grocery delivery solution at the best price.